Tonight I saw Crowded House at the 9:30 Club and it was AWESOME! I love the 9:30 Club – it's small, with a balcony, and no seats. So you get a really personal show, tickets are cheap, and if you're in the front of the floor, you're literally like 7-10 feet away from the band. There's not big gap between the front of the audience and the stage. Sometimes there's a little fence, but often it's right up against the stage.
The downsides of course, is that there is no seating, let alone assigned seating, so it is an endurance test of standing. I actually really like being on the balcony, because if you're early enough and get a spot at the railing, you can lean against it for the night. You can get air that way… and have something to lean on. There are large steps on the balcony too, but you can't really sit much because people will try and steal your balcony space. So you have to guard your bit of railing if you want to keep it.
So the balcony has its advantages. You also have a really nice view of the stage and on the sides of the theater, are nearly right over it. However, nothing matches being in the very front, especially if you really love a band. They are right in front of you and it's easy to catch their eyes, and trade smiles, and you feel like they are singing and playing for you. Of course, it's more claustrophic (especially for a short person) and there's nothing to lean on, unless you're in the first row, which you have to be really early to get.
I like to get there at least a half hour before the doors open, and usually that's enough to get in, and up to the balcony to grab a good spot.
So, you stand for a half hour or more in line to get into the club. Doors are usually at 7:30. (Tonight they were at 7.) Then you stand for another hour or more waiting for the opening act. (Tonight he came on at 8.) Then you stand for the opening act, and another half hour (or more) while the roadies set up for the main attraction. And then, obviously stand for the two hours or so (if you're lucky!) that the band you came to see plays for. This is the longest, but easiest stretch, since you're enjoying the band you came to see, so you almost don't notice that your feet and joints hurt a lot.
Ed found this awesome photo of the 9:30 Club from the DJ's nest. I don't have a photo credit on it. My bad.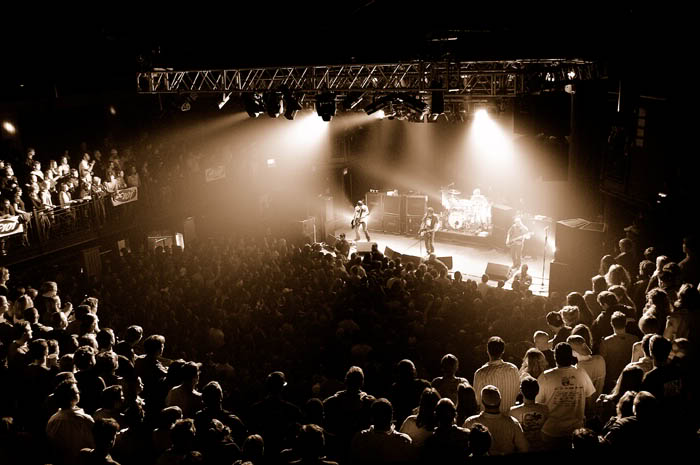 Then there's the inevitable annoying concertgoers. There were some tonight, but on the whole, I can't complain much.
Let's see – so tonight we got there maybe 40 minutes early. Once the line starts moving, and you go in, you have to have your bag (if you have one searched), you have to show your license, and get your hand stamped. It gets stamped whether you're over or under 21. And if you don't show a license or are underage, you get a ginormous red stamp on your hand. So even if you're not drinking, it's best to just show your id and get the much smaller "9:30" stamp. All this takes time, so I like to have my bag open, ticket and id out, and hand on the table ready to be stamped, so I can get in and get a spot. They had three lines to go in, and we took the shortest, as we got to the door.
Then the woman in front of me doesn't realize she has to show her id regardless, so she sets her bag down and rummages through it for like 5 minutes as I'm seething, because I'm loosing time! I want to be on the floor, in the front this time, since I love Crowded House. Finally we get in and we're maybe 3 rows of people back from the stage. Not bad, but I'm short. We're next to a couple who won't stop making out which was really annoying, especially when you're all shoved so close together. They kept touching and kissing and ugh. Get a room. It's not something I enjoy watching. And the guy kept going into his pockets for things with his right arm, so his elbow kept coming inches from hitting me, which was super annoying too. People finally shifted enough that I was able to move next to them, with Doug behind me – and another nice lady who was behind us was able to move next to us, so now I was in the 2nd row. Behind this huge guy. Which wasn't bad, because he was only one person, and it's easier to try and see around one person, than several rows of them. When he leaned on the railing, I could see great. But when he leaned, he would stick his butt out and take up a lot of room. Which was super annoying. I could still see when he straighted up, just less well. And his back was like 5 inches from my face, so less air. But still – I've had worse experiences in the front, so all things considered, it wasn't too bad. I had a great view of the bass player – I was kind of in the center front between Neil and the bass player, with the tall guy in front of me. So it was good, because it's not like I was trying to see directly in front of me, everyone was off to either side. Plus they were all standing, so easier to see. When I saw Norah Jones there, she sat at the piano the whole time and we were a little further back, so I couldn't see a damn thing.
I borrowed this by "bygardo2" from Flickr because you can see Doug in the right corner. I'm behind the tall guy in front of Doug who is turning around.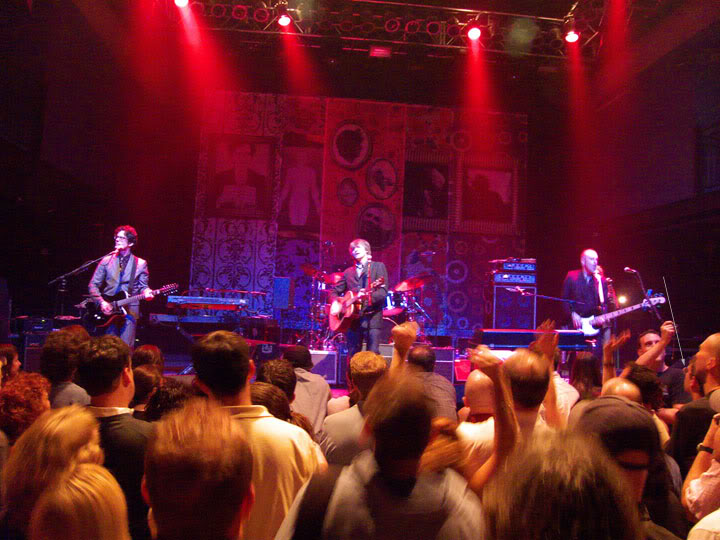 The opening act was a New Zealander named Don McGlashan. He was good – he played a bunch of songs with Crowded House too, on various instruments included euphonium, guitar, harmonica (awesome!), mandolin, backing vocals, and a toy piano. Crowded House was fantastic – I've never seen them before, though I've seen Neil a bunch of times. They played a bunch of new (as in not yet on an album yet) stuff, which was kind of cool. They hardly played anything off their new album – and they played a ton of old stuff. They even took some requests! They (of course) played Don't Dream It's Over, which was their big radio hit back in '87 and even though it's their best known song (and they're probably sick of it) it's my favorite song of all time, and it was amazing to hear it played by the band when they were 10 feet away from me! (It's been an amazing year for hearing favorite songs right up close what with Glen Phillips singing All I Want a few feet from me last month!) I've heard Neil do it before, acoustically by himself, but this was Crowded House doing it! It was very cool. They played stuff from a variety of their albums, but especially from Together Alone, which was their last album before the breakup.
Neil also likes to get the crowd singing, so he often backed off the mic and let the crowd sing. A few concerts ago, when he played "World where you live", the crowd almost automically sang the backing vocal part at the end of the song, and he got a real kick out of it. So he's played that song everytime he's been back at the 9:30 Club – so that was fun. He's a good guitarist and very comfortable on stage – and I could listen to him sing the phone book. I just love his voice!
Oh, and during "Private Universe", when they were sort of jamming, he started singing the lyrics from Lucy in the Sky with Diamonds, so yay Beatles!
They played for just over 2 hours – so even though there was no second show, I'm very happy with the evening. It was a great concert!