We went to bed early Friday because Saturday was an early day. Earlier for amaz0n_princess and rvnclw75 who were running the 5k. I pretty much just pulled on some jeans and put on a sweater over what I slept in. And then put my tiara on. :-)
There were a lot of people back at the start line there!

The cheerers:

Here they all come!

Did I mention that our hotel was right next to a giant mermaid?

After the race, we changed and took the tram to Epcot:

And then the ferry to the Magic Kingdom. We saw this written on the street while we were waiting for the ferry:

At the Magic Kingdom we Fast Passed Space Mountain and met Michelle over at Pirates since she'd wanted to get Mickey ears. Pirates and Haunted Mansion didn't have much of a line which was good. (Pretty much everything else did!) I like the ballerina on the tightrope:

I think after that we wandered back over to Space Mountain:

We had 6, which was perfect for Space Mountain! We all fit in one car!

After Space Mountain, we had Burgers (or chicken) in Tomorrowland. They were good. But maybe just 'cause I was hungry.
We had an early dinner at Epcot, 4:30 at Tutto Italia, so we took the Monorail over early. But we not only took the Monorail, we caught a TRONORAIL!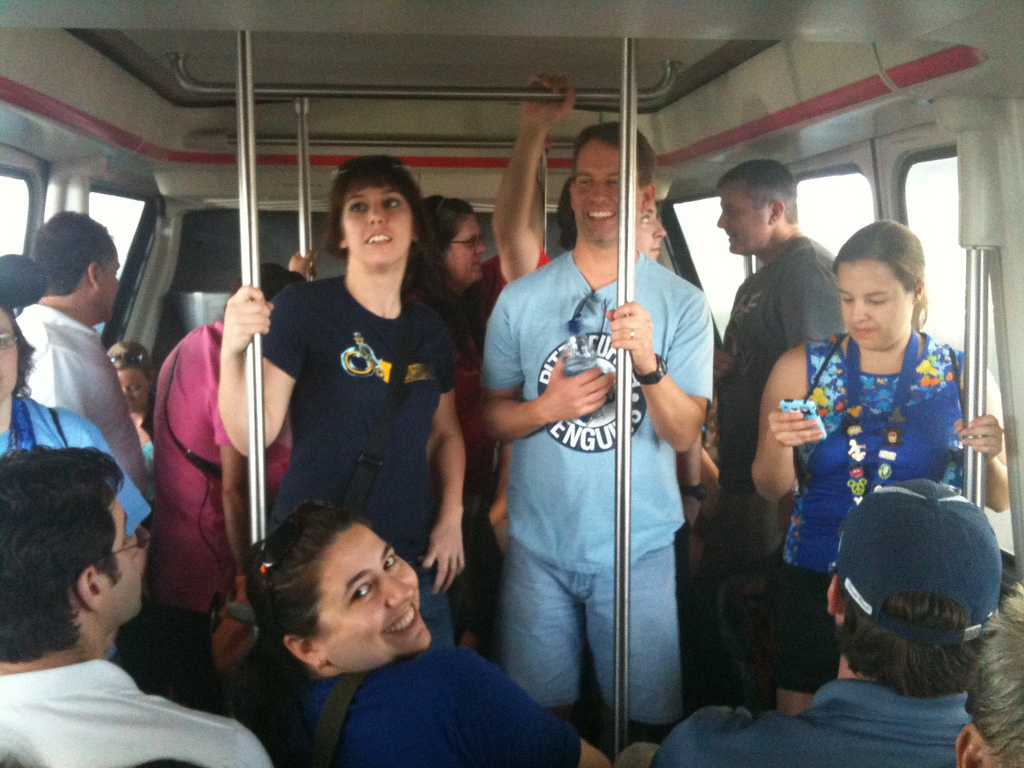 Betsy was very happy.

I was tempted by these, but they were 30 bucks.

Next, we went on Test Track! It was really fun!

Next up, dinner in Italy! Or is it linner. Or lupper. Hey, it was 4:30. ;-)

The red-shirts posed for a picture:

The funny thing was the people taking pics of them!

Dinner was excellent. I had the shrimp risotto and it was rich and delicious. Doug got the canneloni and really liked it. We also shared a calamari appetizer which was expensive, but not so bad split between people. It was some of the best I've ever had! (And I only started eating it like last year.)
It was nice and cool after dinner, with the sun down a bit. It was HOT all weekend. Better than winter for sure, but HOT.
Rapunzel's Tower was in Germany:

I was excited to see this little Romantische Strasse, with signs for Würzburg and Füssen, both of which we've been to.

Yay, Der Teddybar!

Here are a few pics of Germany and Norway from before Dinner:

And also China, which I was VERY taken with, since we were just there. It looked just like it – AND they had a mini version of the Temple of Prayer for Good Harvest from the Temple of Heaven. It looked just like it. But smaller. And you could go inside, and in the center, if you spoke, you could hear it really loudly, but no one else could. Fun! I failed at getting a good pic of it though.
Count the dragon babies!

You can see it a little here:

They even had one of the same friezes outside the real one, and the marble "fence posts" with phoenixes and dragons!

And the ceiling:

For contrast, here's the real one:

And the real friezes:

And the real ceiling:

And then we called it a night early because our runners were going to be up at 3:30 am, and the cheerers were getting up at 5:30!