I feel like I didn't read as much this year. It was, as I've said, a hard year personally.  And I'm almost? embarrassed to say I reread the same book a few times, just because I found it comforting. And that was The Royal We by the Fug Girls. I really liked the book and for some reason, reading something where I knew where it was going, the heroine struggled and floundered and lost herself but prevailed… I guess it worked for the mental state I was in.
Thanks to the "read the whole book club" we started at work, I did read some new and interesting things.  So it wasn't a total loss.
A friend of mine posted a 2016 reading challenge and I thought it might be interesting to see how well I did on it retroactively. So here it is.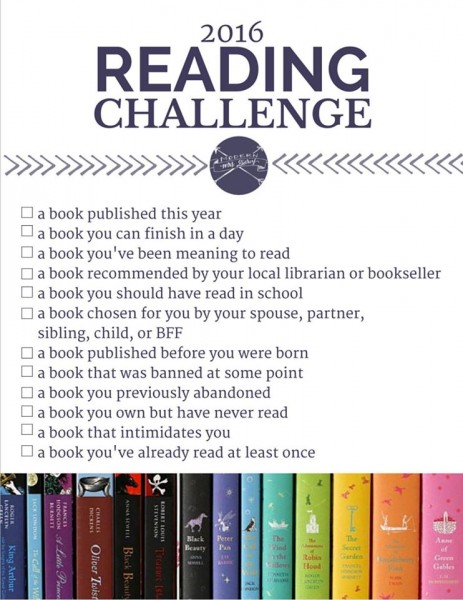 A book published this year – You Will Know Me, Megan Abbott. It was ok. I didn't connect with most of the characters and the way it was told, they and their motivations were kept very distant from the reader.
A book you can finish in a day – Adulthood is a Myth – Sarah Andersen. AKA Sarah's Scribbles, a comic I really like.  Highly recommend.
A book you've been meaning to read – The Handmaid's Tale – Margaret Atwood.  I've heard talk of it for a long time and it seemed timely.  It was.
A book recommended to you by your local librarian or bookseller – I don't really have either.  I'll instead substitute one "recommended" by our small press – and that is the 3rd book in Rori Shay's "Elected" series, "Perfected." It was excellent and I highly, highly recommend the whole series. It's dystopian yes, but it's so original and so well written and plotted. And it has a hopeful thread running though it.
A book you should have read in school – The Portrait of Dorian Gray – Oscar Wilde.  We read this for the Read the Whole Book club.  Wilde is delightfully droll and writes with a wonderful turn of phrase. If you haven't read him, it's worth it.
A book chosen for you.. – Canticle for Leibowitz, Walter Miller. My friend Joe has been wanting us all to read this one for ages as it's a favorite. We read it for Read the Whole Book club. I found it kind of sexist and really depressing. Even more so now.  I'm not sure it's wrong, that humans will never learn, and that we're just doomed to repeat our past mistakes.
A book published before were born – I'll let Dorian Gray cover this too.
A book that was banned at some point – I'll let The Handmaid's Tale double here.
A book you previously abandoned – I had flipped through this one, but never went through the whole thing. Living in the Material World: George Harrison.  Not quite the same as revisiting something I gave up on but good enough.
A book you own but have never read – yes, I read a bunch of coffee table type books I never really read, like The Art of Frozen, and Forgotten Colors (which I backed on Kickstarter).
A book that intimidates you – I'll like Canticle for Liebowitz, Dorian Gray, and The Handmaid's Tale all double.
A book you've already read at least once – well, that one is easy! The Royal We – Heather Cocks and Jessica Morgan.
Not my best year for reading, definitely slower than normal. Hopefully next year will be a return to a more normal "normal."