I've seen two annular solar eclipses before, but I've never seen a total one. And I am told that they don't compare and that total eclipses are spectacular, and there are are people that devote themselves to chasing them all over the planet. They can't be that great, right?
They are. Total eclipses have not been overblown. It was one of the coolest and most surreal things I have ever experienced. No photos I could take could really capture the reality of it. And you've seen total solar eclipse photos before, I am sure. I have friends that took nice ones, but my iPhone wasn't going to it, and I also didn't want to be staring at a camera screen and miss experiencing it.
The plan was this – Doug and I would rent a minivan/SUV, so we could bring Doug's telescope with us, and I'd be comfortable at 6 months pregnant. We decided to head to Tenneesee since skies looked to be clear there, but having a car (versus flying) would give us flexibility to go somewhere else if the weather changed. Our friend Conley was going to fly and meet us there. Our friend Tim, who was working on JWST testing in Houston, was able to get time off for the eclipse, and needed to go home to Maryland for a few days, decided to fly out also, meet us there, and then drive back to Maryland with us.
This was a rest stop on the drive to TN. A rare time when the men's line room is super long and no line in the ladies. So weird.
As it happened, our friend Sean was thinking of going the same direction, and when we happened to text, it turned out we actually were in the same place, with hotels within a few miles of each other. We spent some time texting about where to actually watch the eclipse. We had originally thought it'd be easy to find a spot to watch it, but we were finding out that some of towns in the path of totality were restricting where you could watch it from, and charging huge prices and forcing people to shuttle in (and we had the telescope, which we couldn't shuttle in with). We came up with a list of ideas and just decided to hit the road early so we'd have lots of time to find something. We also hit Panera for breakfast sandwiches and to-go things that wouldn't spoil in the heat for lunch.
We drove past Fort Loudon Historic Park on the way to town #1, and thought it looked interesting. We pulled into its main road and there was a person there that said they still had room so we decided to check it out and if it looked good, to just stick with it. We texted Sean to let him know and he and his colleague (a fellow JMU professor) decided to try for it too.
As it turned out, they were also restricting parking so we had to unload all our gear (chairs, coolers, telescopes) and sherpa it all to the part of the park where they were having people set up. That was a pain in the ass, I couldn't help because of being so pregnant. So I stayed with the stuff, Doug parked the car and Conley and Tim started carrying stuff, til Doug got back. Eventually Sean and his friend showed up and needed to do the same. Ultimately between all of us, we got everything over to the spot Tim and Conley had picked out, right by the fort. Everyone was pretty hot by that time and we moved our chairs against the wall of the Fort which was offering a strip of shade. But look at that sky! Not a cloud in sight!
This is what our set-up looked like from the fort walls.

Doug bought a multispectral solar filter for his telescope and Sean had an H alpha filter with a solar telescope with a CCD camera. Doug's had an eyepiece and it was safe to look at the sun – it was really nice having it so we could watch the eclipse progress.
If you lined up your phone just right, you could take a pic through the eyepiece! There were two sunspot groups, which was nice.
And so it begins:

I wore my eclipse shirt!

Me and Conley:

One of my fav eclipse effects – leaves make pinhole cameras, and you can see tiny eclipsed suns everywhere.

Also if you made pinholes with your fingers, you could also get little crescent suns.
Sean's set-up. You can see the sun on his computer screen.

It was quite warm, but there was a visitor center that had bathrooms and airconditioning. I visited that once. I didn't quite make it into the Fort itself since it was a bit hard for me to walk around much in the heat – they were playing music from there (yes, they played Total Eclipse of the Heart after totality). And there were food trucks too, and a cupcake truck, which I didn't realize til post-eclipse.
There's me behind our group, taking a panorama of the weird lighting a few minutes before totality.

Here is said pano, with no color correction. The lighting was super weird, like high contrast or something, and no shadow.

I watched through my eclipse glasses as the last hint of sun appeared and then it went dark, I ripped off the glasses and the first words out of my mouth were "holy shit!" It was like suddenly having the Eye of Sauron on you. I've never seen anything like it. We saw a star right next to the Sun, nearly in the Corona, and Venus. We saw twilight fall hard on us. The light got increasingly weird until it was oddly dark but not night, and the birds and cicadas made a racket. And the corona was amazing. So ephemeral that I'm not even sure if I really saw it!
I didn't get any decent iPhone pix – I only snapped a few. Conley got this one:
And Doug actually accidentally took a few second video which was really kind of cool. I should have thought to take video. But it's so fast and you wanted to make sure you noted everything, and really watched it. It didn't feel like long enough.
Tim and Sean's friend during totality, Conley's pic:

My pano during totality. I couldn't get the eclipse in there though. I should have used a different app. I swear, best laid plans…

Conley's pic:

After we sang Total Eclipse of the Heart and celebrated, we found the cupcakes. They had an eclipse special. How cute are these?
Sean's photos from his set-up. Look at the granulation on the sun!

Ring of fire:

My panos next to each other:

And here is a montage with Doug's little video embedded.
For me, the photo I saw that best captured what the sky looked like during the eclipse was this photo by Ben Cooper (https://apod.nasa.gov/apod/ap170822.html)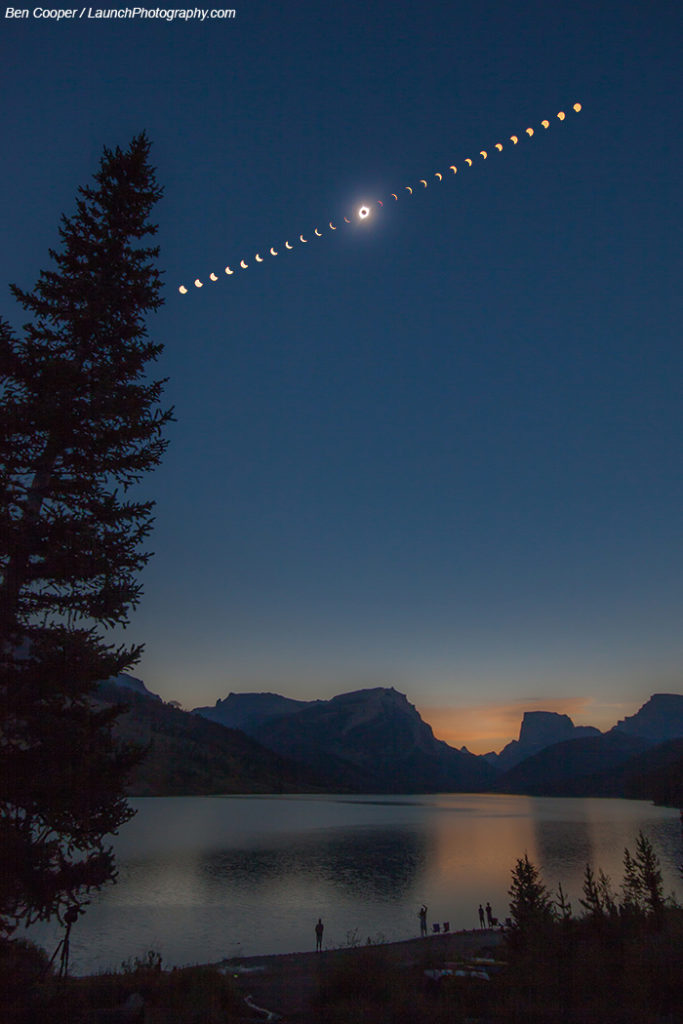 And my friend Craig got a nice photo of totality where he watched the eclipse.